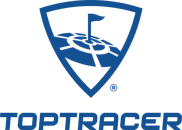 Emiley Conboy
Program Manager – Events & Installations
Coming from US with a Master in Operations Management and Control, what made you chose Toptracer?
I was intrigued by the idea of working for a small company that was in the beginning of their journey where I could learn by being involved in a wide variety of areas. I was the seventh to join the company, and what motivated me was the chance to grow with the company professionally and personally. There was a start-up feeling within the company, which in many ways is still present today.
Why should people want to work in your team?
Events & Installations - It´s rewarding to know we bring the product to people to experience. We work very close to the end product, and therefore one can easily see the result of our previous week of work by tuning in to that week's golf competition on television or going to a local driving range. The team gets to bring Toptracer to millions around the world, which is a motivating and fun concept.
What makes Toptracer a good place to work?
The intimate work environment, the start up feeling, and the collaborations within and across teams. At Toptracer you get great responsibility balanced with freedom. With that balance I was able to create a team from scratch. The opportunities and the possibilities to make changes are big, the company trusts the individuals.
Favorite moment since your start?
My favorite moments have been the trips with the team to the PGA Shows in Orlando. Those were intense but also great bonding experiences. In Orlando I got the opportunity to present the product from a sales perspective in front of experienced golfers though I wasn't very experienced myself (had only been working about 4 months at the time of my first trip). It was scary but also very good for my knowledge of the product and getting out of my comfort zone.
The best non-work-related activity with the company?
We have a lot of fun! Some of my favorite activities have been curling, bowling and E&I hosts yoga every Friday. One specific great experience was Team Trek where employees are sent on a camp in Arkansas for a week of personal development.
Golf experience, on a scale 1-5?
I'd say a 1. I have clubs and watch a lot of golf on television. I have also started training to get the green card.